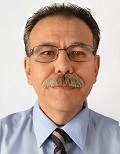 LEONARDO JOSE BAVARESCO ISACURA
ASME Membership: 102078754
Mobile Phone: +34-605760193
Email: info@ingeniare.net
More than 30 years of experience in managing, monitoring and implementation of industrial and infrastructure projects.

Subject-matter expert in static equipment and piping systems.




Expertise in oil & gas, refinery, petroquemical and cryogenic complex projects including engineering, procurement, construction, Commissioning, start-up and operation.




Expertise in Maintenance and Inspection Engineering.




Expertise in Risk-Based Inspection (RBI) as per API RP 580 & 581.




Preparation of technical and commercial proposal and business plan.




Development of Value Assurance Review (VAR) in order to increase potential project value and allow the project to avoid the risk of missing opportunities for improving technical and business solutions.




Conduct audits at predefined points to assess the health of the project.




Perform invitation to Bid (ITB) reviews against the specified scope as per phase deliverables and assure that all required parameters are well defined to get competitive bid.




Identify and assure implementation of Value Improvement Practices (VIP´s).
We provide advice as well as organizational and technical support in value assurance review, application of value improvement practices and audits to industrial projects.
Additionally through our spreadsheets and online technical presentations we could add value to your engineering department in Oil&Gas and/or Petrochemical sectors which could also be incorporated into your training platform. In these tools, the calculation methods and equations involved are shown step by step, as well as references to the sources of the content for all calculations. These spreadsheets are useful for courses and/or workshops of the standards involved, as well as for professional use in small or medium projects that do not require the use of a specialized calculation program. The spreadsheets are in a reserved area so if you are interested in reviewing them you can send me an email to info@ingeniare.net, and I will gladly send you a temporary access data. I will be very pleased to receive your suggestions and/or recommendations, also if you are interested to establish any professional relationship you can find my contact information on this page.